Grow your business and bottom line with employee benefits.
Keystone strengthens your agency and expands its offerings by selling and servicing group benefits either with you or on your behalf. This helps you increase your revenue-per-relationship.
How can your agency grow with employee benefits?
Adding group health and ancillary benefits business will provide value through:
Access: By pooling business, you obtain expanded carrier access and higher revenue than you could achieve on your own.
New Business: We help you protect your Property and Casualty relationships while generating new business.

Cash Flow: New business brings added cash flow to your agency, and any group account you write with us is owned by you.
Keystone works with agencies based on their employee benefits needs and current staffing structure. If you're considering adding group health and ancillary benefits to your product line, we can help you maximize your earning potential.

You're part of something greater.
This is much like what happens with Property and Casualty core carriers. Revenue generated by the agency is dispersed monthly. Agencies never make less than they would have made on their own and benefit from the strength of aggregated contracts.

We act as an extension of the agency.
If an agency doesn't have a benefits team, Keystone acts as an extension of the agency to sell new group health and ancillary benefits. Keystone splits the commission with the agency. We do all of the work, and the agency receives additional cash flow.
Example:
Say you wrote a volume of new business that generated $50,000 in total revenue. Your agency received $10,000 in revenue, and Keystone, $40,000. If your agency were to be valuated, it would be based off the gross revenue, or $50,000. At eight-times EBITDA, that would bring $320,000 in added valuation to your agency!

This ownership value continues to grow each year you write more new business with us.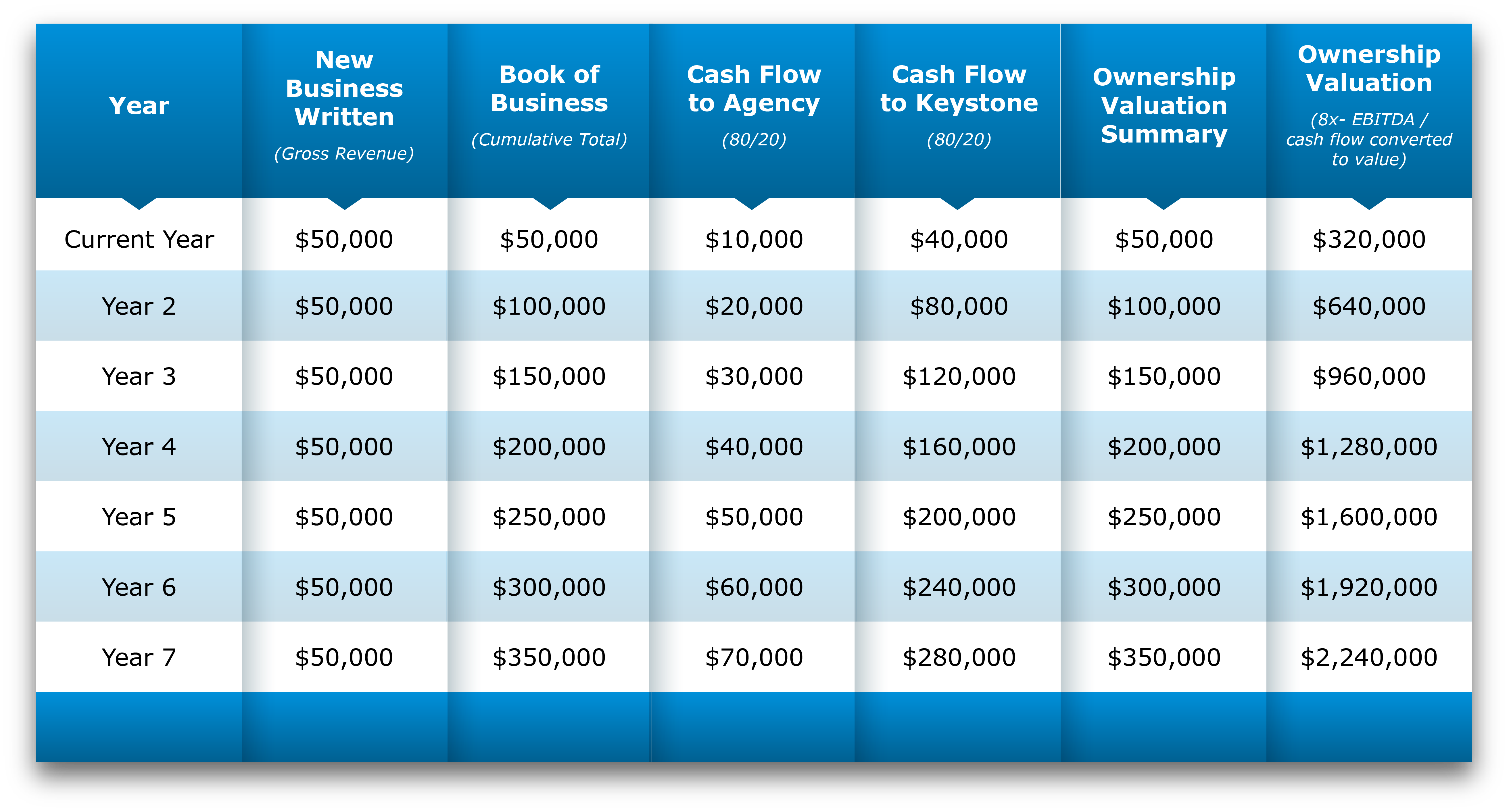 Connect with us to get started.